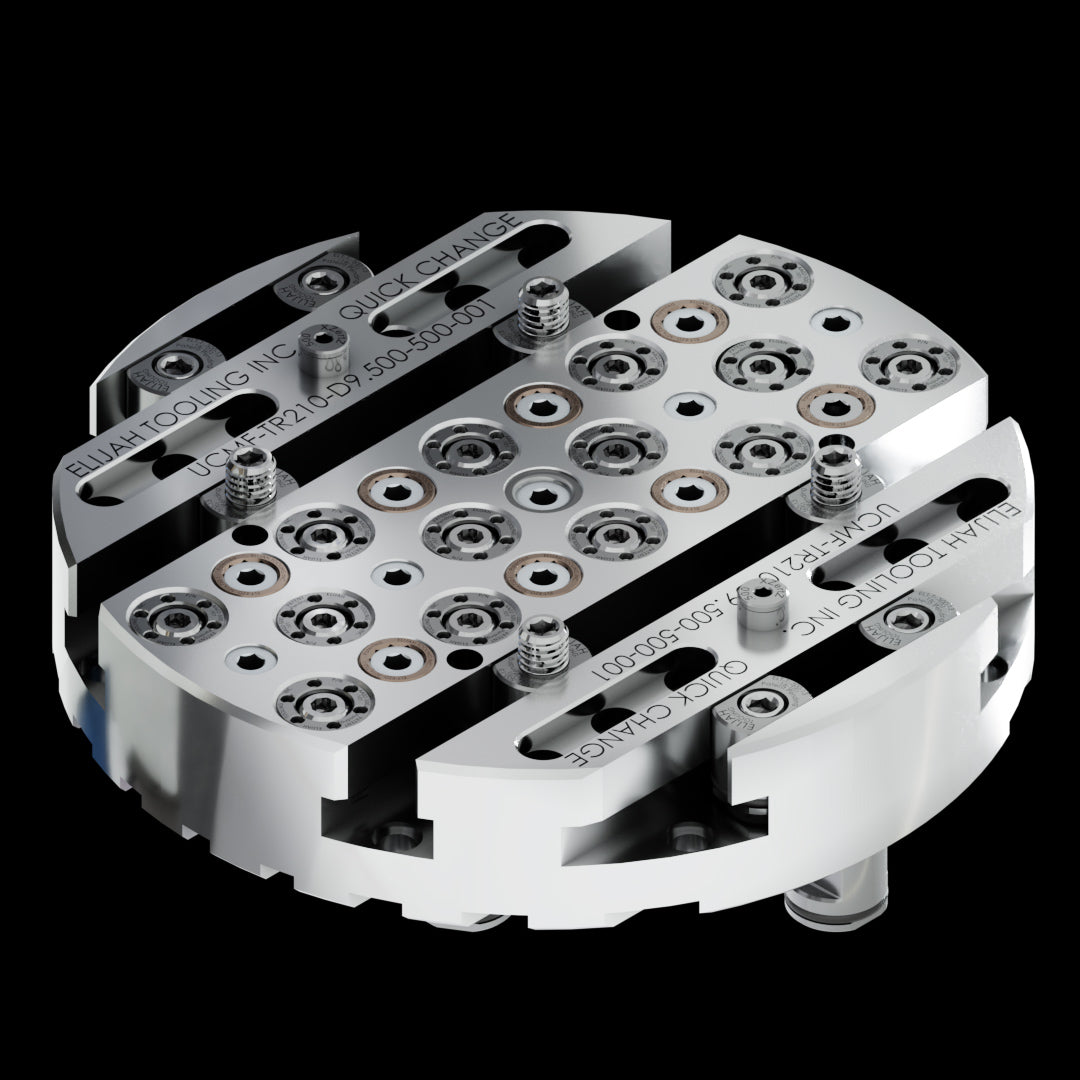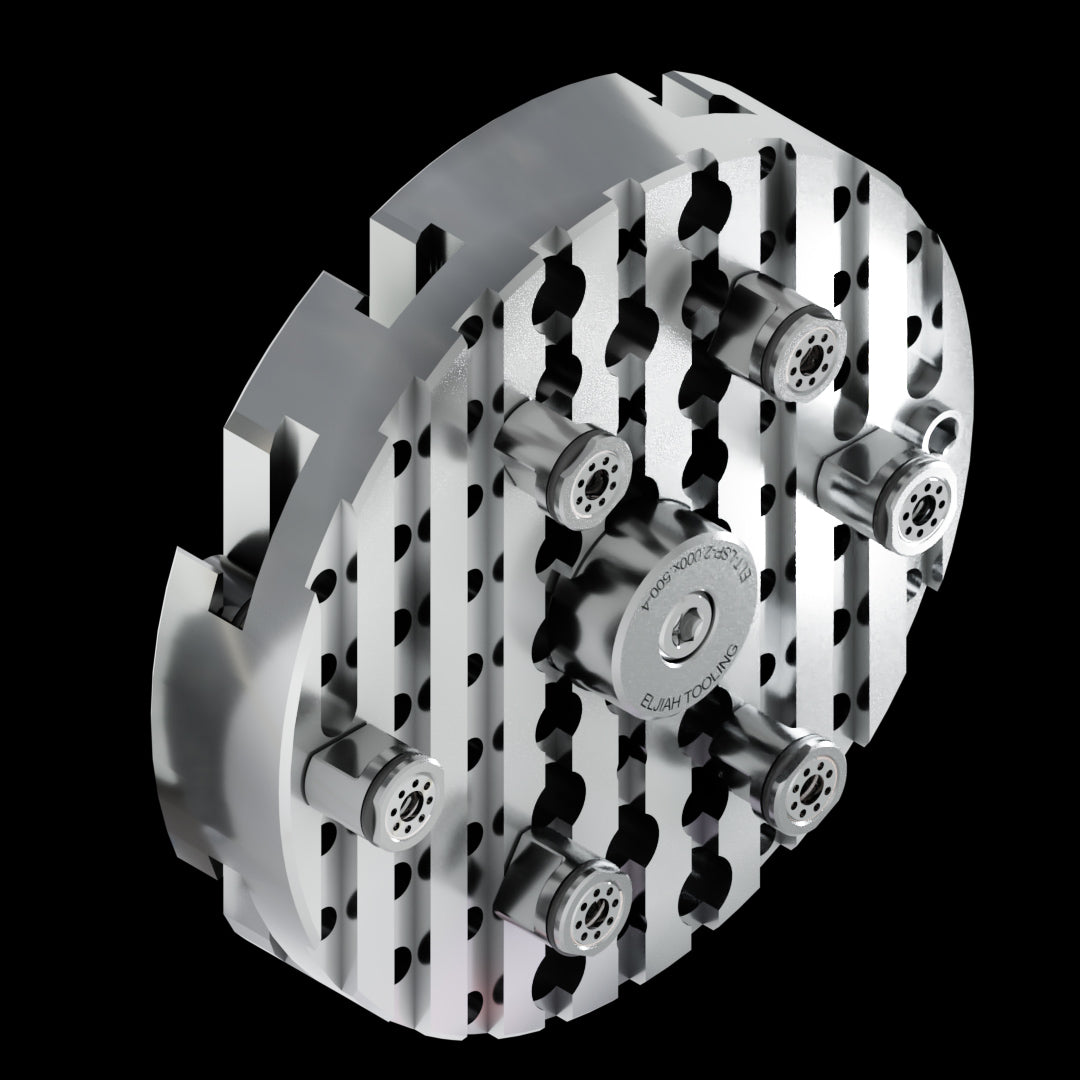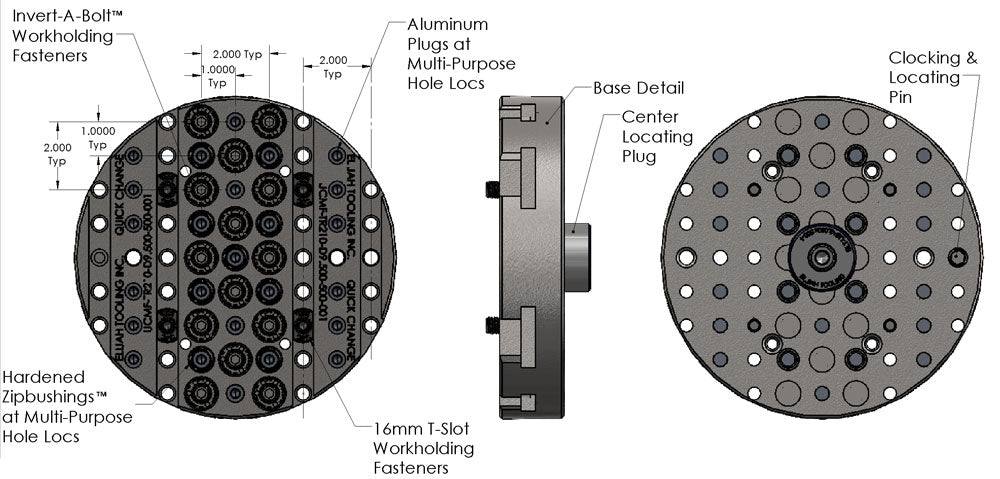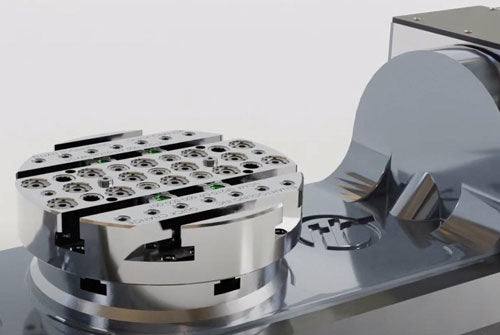 QUICK-CHANGE MODULAR FIXTURE PLATE FOR TRUNNION
---
---
Elevate your machining operations with the Universal Common Modular Fixture Plate (UCMF) designed specifically for Haas trunnions. This cutting-edge UCMF plate blends the advantages of modularity and T-slots, creating a supremely versatile tooling fixture that optimizes time, accuracy, throughput, and repeatability. We affectionately refer to it as a "hybrid" because it seamlessly combines the best of both worlds: standard Invert-A-Bolt™ workholding fasteners and T-slot fasteners.

Key Features:


Standardization Meets Flexibility: With the UCMF plate, you can standardize your setups while enjoying unparalleled flexibility. Its modular design allows you to adapt to various workholding needs, streamlining your operations.
Superior Throughput and Accuracy: Experience a significant boost in throughput and accuracy with this unique tooling fixture. Whether you're in high-precision machining or high-volume production, this UCMF plate has you covered.
Innovative "Hybrid" Design: Combining Invert-A-Bolt™ fasteners and T-slot fasteners, this plate offers a comprehensive solution for your workholding requirements. Say goodbye to the limitations of traditional setups.
ZipBushings™ for Versatility: The UCMF plate integrates ZipBushings™, making it suitable for both hardened and non-hardened locations. This versatility opens the door to a wide range of machining possibilities.
Customizable for Your Needs: While the plate shown is designed for the Haas TR-210 trunnion, we offer modification options to suit various applications, ensuring that it meets your specific machining needs.
Premium A36 Steel Plate: Crafted with high-quality A36 steel, this plate guarantees durability and longevity, with a diameter of 9.500" and precision ground parallel and flat to 1.900" +/- .002", ensuring reliability in your setups.

Elevate your machining setups with the Quick-Change Modular Fixture Plate for Trunnion. This innovative tooling fixture empowers you to streamline your operations, boost accuracy, and achieve unmatched flexibility. It's the bridge between standardization and adaptability, providing a solution that optimizes your machining efficiency and performance. Don't miss out on the advantages this UCMF plate offers; it's the key to unlocking your full machining potential.
FIXTURE INCLUDES:
(14) AA02 type Fastener holes locations
(18) ½" multi-purpose hole locations
(8) ZipBushing™ holes populated with (9) ELT-EZD-.501x.750-1 ZipBushings™ and 500-13-850 aluminum plugs
(2) locator hole locations on the backside of the plate
(4) T-Slot Fasteners
Mounting Hardware to attach/locate to trunnion platter
AVAILABLE SIZES
SKU
Description
Price
CAD




UCMF-AA02-TR210-D9.50-500-001

Quick Change Modular Fixture Plate for Trunnion
$3995.95
CAD




9.50 diameter x 1.900" thick, aluminum. *Bare plate + hardware as indicated above.

All other accessories (workholding fasteners etc.) purchased separately.